Quick Reminder:
Have you entered my SUMMER READING GIVEAWAY?
Welcome to Feature Friday!
Thanks for joining me.
The blog I am featuring today is....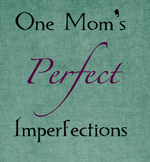 One Mom's Perfect Imperfections
is one of my favorite blogs to look at daily. Courtney and I have become such great friends, and I truly value our friendship. She is an Amazing Christian Mother to 2 beautiful children and along with all of her hobbies.. She is one busy momma. Courtney is always sharing about her sewing, quilting, and scrapbooking projects, along with her tasty recipes, and photography skills.
I would have to say two of my favorite post are these... I couldn't just pick one...
Here is a little glimpse into One Mom's Perfect Imperfections:
Hi! I'm Courtney, the author of One Mom's Perfect Imperfections. I am a 30 something, Christian woman originally from Kentucky but now residing in Memphis, TN. I have been married to Prince Charming for 7 1/2 years now and am still madly in love. I consider myself somewhat witty and a bit of a sap when the mood strikes - a sentimental fool,if you will. I am
ridiculously
a tad obsessed with Elvis Presley and have been since the tender age of 4. A lover of history, a sucker for anything handmade, and an avid coffee drinker. A stay at home mom of two wonderful children, I have taken motherhood very seriously and realize I don't make time to do the things I love to do or would like to learn. My hodgepodge of hobbies as well as the accumulating noise in my head from motherhood inspire the ideas for my blog. I am an amateur at everything and don't expect my creativity to be perfect, just fun. I hope you'll come learn more about my perfect imperfections.
Please stop by Courtney's Blog.
One Mom's Perfect Imperfections